Prime Minister Pham Minh Chinh visited Silicon Valley, California, on Monday, September 18 (local time), to participate in the 78th High Level Week.my Session of the UN General Assembly, from September 17 to 23 in the United States.
>> Prime Minister meets with representatives of the Vietnamese community in the United States
>> Prime Minister participates in Vietnam-United States business forum
>> Prime Minister Pham Minh Chinh visits the University of San Francisco
>> Vietnamese Prime Minister receives delegation of politicians from San Francisco
Prime Minister Pham Minh Chinh (2myright) visits Nvidia, a leading producer of semiconductor chips in the United States, on September 18.
Photo: VNA/CVN
Silicon Valley is the territory of technological giants, but also of hundreds of famous "unicorns", not to mention dozens of Fortune 1000 companies, the 1,000 largest American companies classified by turnover.
The head of the Vietnamese Government visited in particular the American semiconductor manufacturer Nvidia, which on May 30 exceeded $1 billion in capitalization, and joined the very exclusive club of the most valued companies on the stock market, among which are Apple , Alphabet and Amazon.
In Vietnam, the company co-founded by Jensen Huang, who serves as CEO, is a dominant provider of artificial intelligence (AI) hardware and software and has sealed its cooperation with Viettel with the desire to become Vietnam's partner in the process. . improve national capabilities in AI.
The Prime Minister discussed with Jensen Huang global AI development trends and the potential for cooperation between Nvidia and Vietnam, as well as suggestions for Vietnam's national semiconductor strategy that is currently being developed.
He urged the Californian group to strengthen its presence in Vietnam and invited its CEO to visit Vietnam as soon as possible, hoping that Nvidia will soon have a production plant in Vietnam and take Vietnam as a platform in Southeast Asia.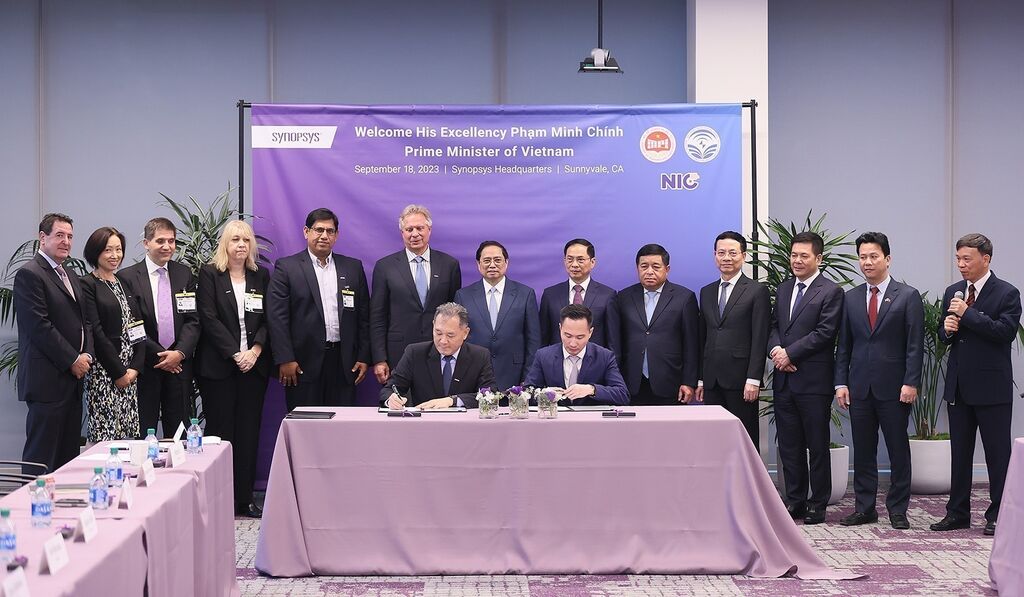 Prime Minister Pham Minh Chinh (2my plane, 7my right) witnesses the signing of memorandums of understanding on cooperation in developing the integrated circuit workforce in Vietnam, in Silicon Valley.
Photo: VNA/CVN
Next, Prime Minister Pham Minh Chinh visited Synopsys, the leading electronic design automation (EDA) provider that had 19,000 employees and recorded a turnover of $5.08 billion in 2022.
One of its executives, Joachim Kunkel, reported that Synopsys officially entered the Vietnamese market in 2016, opened four offices in Ho Chi Minh City and Da Nang and sealed a memorandum of understanding on human resources training in integrated circuit design in Vietnam with the Ho Chi Minh City Hi-Tech Park.
Prime Minister Pham Minh Chinh said that during US President Joe Biden's state visit to Vietnam, US President and Secretary-General Nguyen Phu Trong announced the elevation of relations to the level of comprehensive strategic partnership.
This Prime Minister's tour aims to realize the content of the comprehensive strategic partnership, including the pillar of cooperation in the fields of science, technology, innovation, education and training.
He hopes that Synopsys will continue to expand its production and supply chain in Vietnam, adapt well to the country's conditions, and have the technological, management and financial solutions to help Vietnam promote its rapid and sustainable development.
Vietnam welcomes Synopsys and American companies to come and cooperate to achieve mutual success, bringing benefits to both companies, the two countries and the two peoples, he said.
In the presence of Prime Minister Pham Minh Chinh, Synopsys signed two cooperation protocols to develop human resources for integrated circuit design in Vietnam and support the development of the Vietnamese semiconductor industry.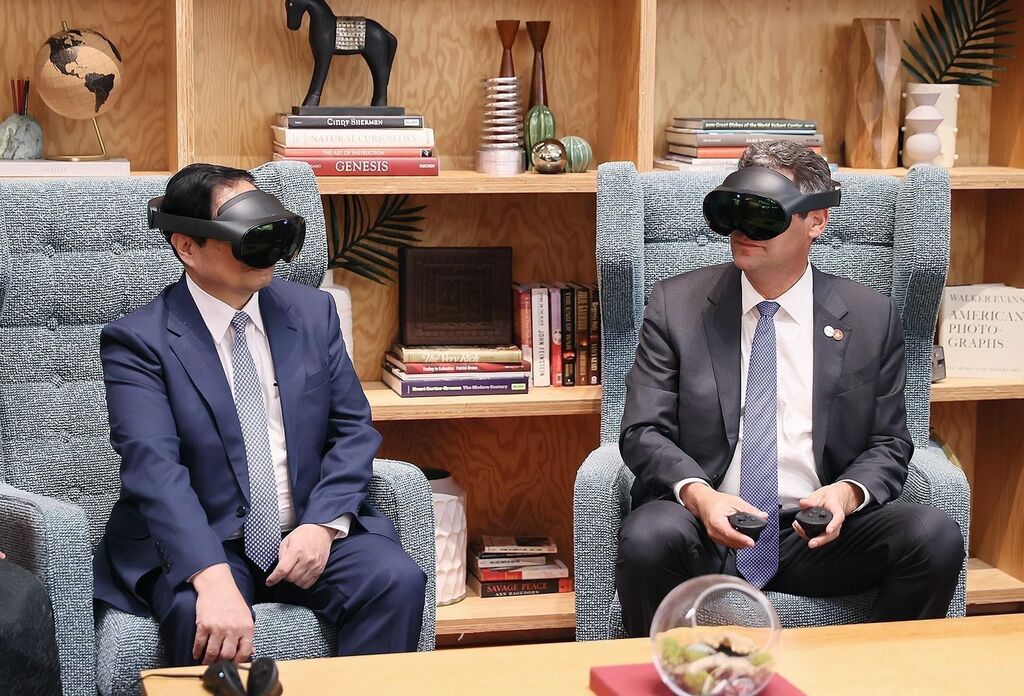 Prime Minister Pham Minh Chinh (left) visits Meta Platforms (formerly Facebook) in the United States.
Photo: VNA/CVN
On Monday afternoon, September 18, Prime Minister Pham Minh Chinh visited Meta Platforms (formerly Facebook), one of the five largest information technology companies in the United States with a turnover of $116.6 billion in 2022.
Based on the very good political relations between the two countries, he estimated that cooperation activities with Meta will be more effective and substantial, especially in key areas such as the digital economy, artificial intelligence, digital content, innovation and transformation. digital in companies.
Facebook is currently a very popular social network in Vietnam. NIC and Meta signed a memorandum of cooperation in May 2022 in the United States under the supervision of Prime Minister Pham Minh Chinh to promote innovation and digital transformation activities in Vietnam.
The head of the Vietnamese Government welcomed the strengthening of Meta's activities with the NIC, as well as with Vietnamese agencies and companies, in a win-win spirit, making the most of the Vietnamese market of 100 million inhabitants, for the benefit of State. .-United States, Vietnam and the relations between both countries.
VNA/CVN