At Christmas, a range of traditional products, such as shellfish or fish, see an increase in price due to their high demand. Added to this seasonal increase this year has been high food inflation (15.3% in November, according to INE). Market advisors agree that the combination of these two events creates a perfect storm in gauging consumer behavior in the coming Christmas holidays. The majority consider buying white brands or cheaper ranges with increased distribution. Facing this section of consumers, there is another small section who are looking to have a party to celebrate the return of normalcy post COVID and plan to spend more on products premium, Even if demand falls, higher prices will mean an increase in overall household spending.
In association with manufacturers and distributors Aecoc it is believed that the savings will mark the purchase of new products this Christmas. Consumers will buy smaller quantities to save, but without giving up purchases of some of the more expensive products. In this line, they estimate that they will buy 40% less meat, 25% less fruit and 21% less vegetables because of the increase in prices. On the other hand, 25% are willing to pay for higher quality fruits. For consultancy Deloitte, consumers are looking to celebrate the holidays in the post-Covid period, and 40% are looking to slightly increase their spending on food and beverages. Based on a survey of 1,000 people, Nielsen says there is a general desire to keep up with spending.
Jesús Alonso, head of consultancy Across the Shopper, doesn't believe consumers are overjoyed. They anticipate that there will be a greater role for distribution brands or white brands with higher prices, that consumers are likely to be waiting for last-minute offers and that, as a result, demand for products will fall. premium and innovation. These hikes would mean a 15% increase in consumer spending for consumers and organizations of users (OCUs). Although there is a desire to celebrate, 42% of buyers would bet on cheaper products, as well as reduce the amount of basic products such as meat or fish.
Clams and Iberian ham, which rise most at Christmas
OCU has analyzed the price development of 16 basic products in Christmas shopping baskets in a dozen provincial capitals in the month before Christmas. Reports suggest that these were 5.2% costlier than last year, and the increase would have eased to 2.4% in the first week of December.
Looking ahead to the holidays, OCU's historical data shows that, while capture and shellfish fishing prices increase as the indicated dates approach, meat remains stable. Comparing prices between 25 November and 10 December this year, clams (+19%), Iberian ham (+10%) and sea bream (+7%) make up the podium for higher prices. They are followed by barnacles (+6%). Other products such as lamb, sea bass or beef rounds have hardly changed and have, in fact, become slightly cheaper as Christmas approaches.
There are four products that mark their highest prices in the past five years: clams—which have risen from 22.32 euros per kilo in 2018 to 27.75 euros in 2022 according to OCU data, which may vary from other sources—; lamb, 14.58 to 18.60 euros per kilo; turkey, whose price has increased from 5.25 to 6.47 euros per kg; and red cabbage, from 1.77 to 1.33 euros per kilo. In this inflationary scenario, consumers look for more affordable products and sellers offer the best deals. At the same time, the risk of giving the pig a blow also increases. Consumer organizations and the sector themselves advocate the need to control labeling and that they react to product quality conditions. These powers are in the hands of the autonomous communities.
lamb rush
Lamb is one of the star products of Christmas, a time that accounts for more than 30% of sales at annual sacrifices. The greatest demand relates to suckling lambs, which have been grown with only their mother's milk, weigh between five and seven kilos and are less than 45 days old. According to OCU, this product has become costlier by 48 per cent in the last five years. According to their latest study, the kilo is on average 18.60 euros.
Lamb today has six quality designations as protected Geographical Indications in Castilla y León, Extremadura, Aragón, Navarra, Castilla la Mancha and Segureño (a variety from the southeast of the peninsula). Spain produces about 120,000 tons annually for a low demand of only 1.2 kg per person. This trend has forced farmers to reduce supplies. Imports increase with the demand skyrocketing on these dates.
Jorge Izquierdo is a farmer in Colmenar Viejo, Madrid. They welcome the increase in prices: "We farmers cannot produce more at a loss," they say, meaning that national production is insufficient for these dates. Imports mainly come from other EU countries such as France, Greece or Italy, which have a similar weight to the Spanish origin. These entries are made both alive and in the flesh. Of the live animals, about 200,000 lambs are imported from France alone. In meat, Christmas represents 40% of the annual import of 6,000 tonnes.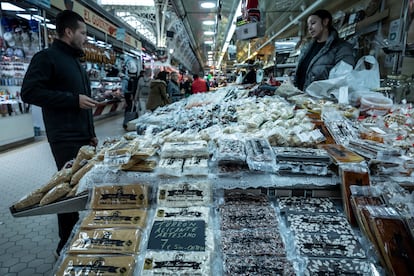 Regardless of the label, meat of national origin can be distinguished from an imported one by its price. While domestic meat in quarters costs around 20 euros per kilo, imports are much less, between 15 and 16 euros. National product reflects the cost of production in its price. For French farmers, the business is in the sale of milk, and cattle are just another product that can be sold cheaply without affecting the farm's profitability.
fishing products
Spain maintains a large foreign dependency on fishing products. This is largely accompanied by the importation and capture of fleets in Community waters of third countries, through access agreements, or in international waters. All of this amounts to a demand of over one million tonnes, which does not cover aquaculture other than the production of mussels. It produces about 80,000 tonnes, mainly of trout, turbot, sea bass and sea bream.
Compared to meat, these products are the most expensive at the moment. Furthermore, according to the OCU, fishing products are Christmas foods that have become more expensive in recent years. Sea bream (+142%), clam (+83%), hake (+75%) and eel (+66%) lead the table. The latter, due to their extravagance, are the most expensive: they cost an average of 1,070.50 euros per kilo. They are followed by sea bream, which cost an average of 35.90 euros in 2018 and 51.92 euros per kilo this year.
Among shellfish, shrimp and prawn sales dominate with a volume of around 100,000 tonnes, a quarter of which is sold on these dates. Almost all of them come from foreign waters, from net imports to catches by Spanish companies in other fishing grounds. Prawns originally come from Mediterranean countries such as Tunisia, Morocco, Greece or Italy, while the bulk of prawns come from crops in Central American countries. According to OCU, its price has increased by 18% since 2018. Its advantage over other products such as barnacles, clams and oysters is that it does not vary much in price at Christmas.
morning country
Wake up with analysis of the day by Bernd Gonzalez Harbor
get it