Nureva's new HDL410 system provides high-performance audio conferencing features to optimize audio in large, face-to-face and hybrid spaces.
Qualified as the first model of a new generation of audio conferencing systems Nureva HDL410 Designed to make it as simple as possible to get the best audio in a large hybrid space, without the cost and complexity of traditional solutions.
HDL410 Combine two microphone bars and Nureva loudspeaker with a new connection module, powered by microphone mist technology technology, and an innovative integrated coverage map to deliver professional audio performance in large work and learning spaces up to 10.7 x 16.8 m.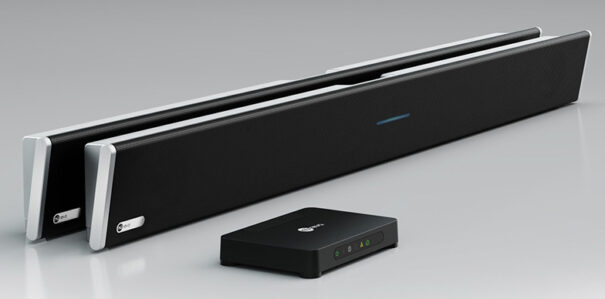 Integrated coverage map Two microphones and speakers allow the bar to act as if they were one device. This improves the accuracy of sound location data for audio performance and camera shift and direction, while avoiding the performance complexities of the system requiring manual setup and complex processing to stitch the regions together. Overlapping coverage from multiple ceiling microphones.
new feature console direct Provides a secure and continuous connection between the HDL410 and Nureva consoles, allowing IT managers to remotely manage systems without relying on PCs in the room running client software.
Users have access to the Nureva Developer Toolkit API for remote installation of firmware updates, checking device health, viewing historical and analytical data, modifying settings, and other functions.

Another innovation of HDL410 is silent function Audience numbers, within Nureva's voice amplification mode, which can focus the microphone's pickup on the voice of the presenter or instructor, while reducing the sound of other microphones in the space.
The ongoing shift to hybrid environments has strained IT resources to meet the new and growing needs of collaboration spaces of all sizes, necessitating solutions that dramatically improve the experience for remote participants.
For audio in large spaces, this challenge is magnified by the high cost and complexity of designing, installing and managing traditional AV solutions. This Nureva system with HDL410 provides a system that is easy to implement and manage.
The HDL410 is easily connected via USB and can be installed and up and running in about an hour, no dsp neededEasy pole mounting to the wall using two screws and continuous self-calibration.
Microphone Mist technology solves the challenges of echo cancellation, noise reduction, position-based gain control, and simultaneous speaking of multiple participants in the room.
Nureva audio systems integrate with all major Unified Communications platforms and the HDL410 is currently undergoing certification for Microsoft TeamsWhich will make it the first microphone and speaker bar certified for extra large rooms on this platform.
"IT managers are seeking smart solutions that deliver the collaboration experiences their users demand, without straining their resources," he says. Nancy KnowltonNureva CEO-. The HDL410 system is our best example of using the company's approach to innovation to deliver great audio in large spaces."
Did you like this article?
Subscribe to our RSS feed and you won't miss anything.
Other articles on Microsoft Teams, Nureva