All eyes were on Ukrainian President Volodymyr Zelensky on Tuesday at the United Nations General Assembly, where his American counterpart Joe Biden called on all countries to "rise up against Russian aggression."
Russia believes the world will get tired and allow it to brutalize Ukraine without consequences.
If we allow Ukraine to be dismembered, is the independence of nations still guaranteed? The answer is nohe insisted, to the applause of the Ukrainian president and the public.
A year ago, Volodymyr Zelensky received exceptional permission to speak by video message.
This time he is there in person, for this annual mass at which he will speak on Tuesday at noon, before participating in a special meeting of the Security Council on Wednesday and leaving for Washington, where he will be received at the White Thursday House.
Open in full screen mode
Ukrainian President Volodymyr Zelensky personally attended the United Nations General Assembly this time.
Photo: AP/Susan Walsh
For us it is very important that our words, all our messages, are heard by our partners.he declared Monday during a meeting at a New York hospital where Ukrainian soldiers are wounded on the front lines.
Ukraine will present a concrete proposal to UN member states on how to strengthen the principle of territorial integrity and improve the UN's ability to thwart and stop aggression.clarified on X (formerly Twitter).
Since the Russian invasion, an overwhelming majority of countries have adopted several resolutions in the UN General Assembly supporting Ukraine and its territorial integrity, or calling for Russia's withdrawal.
But after a year and a half of war with cascading impacts on the world, particularly on food security, certain southern countries are advocating for a diplomatic solution.
We will intensify our efforts to end the war through diplomacy and dialogue, based on the independence and territorial integrity of Ukraine.launched from the podium to the Turkish president, Recep Tayyip Erdogan, highlighting that War will have no winners and peace will have no losers..
In Ukraine, No solution will be lasting if it is not based on dialogue.insisted the Brazilian president, Luiz Inácio Lula da Silva, who will meet with Volodymyr Zelensky on Wednesday.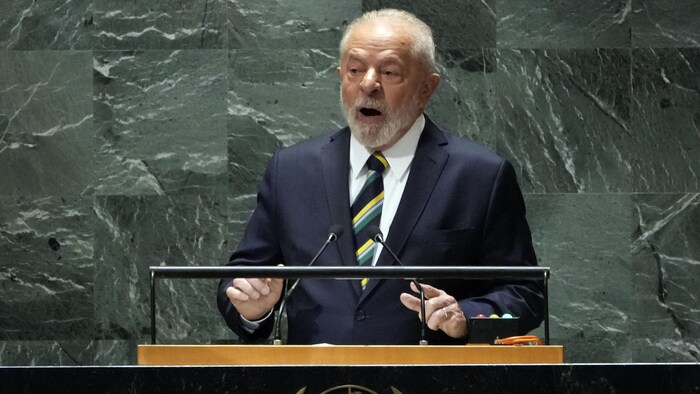 Open in full screen mode
Brazilian President Lula da Silva called for development, dialogue and peace.
Photo: AP/Richard Drew
A lot has been invested in weapons and very little in development.
Unlike several Western powers, Brazil has never imposed financial sanctions on Russia or agreed to supply weapons to kyiv, and the country is trying to position itself, like China, as a mediator.
I am aware that for some leaders it is important to find a peaceful solution, said the president of the European Council, Charles Michel, on Monday. But For this peace to be lasting, it must respect the principles of the UN, he insisted.
In his opening remarks, Secretary-General Antonio Guterres painted a very bleak picture of a upside down worldwhere geopolitical tensions worsen and global warming more directly compromises our future.
symbol of this Compilation crisis, the Derna floods in Libya, Sad snapshot of the state of our world, swept away by the torrent of inequalities and injustices, and paralyzed by the challenges that must be faced.he lamented.
The thousands of people who lost their lives They were victims of various scourges. Victims of years of conflict. Victims of climate chaos. Victims of leaders who, there and elsewhere, have not known how to find the path to peace.
Remembered promises
As a prelude to Monday's General Assembly, developing countries reminded the rest of the world of their promises to improve the lot of humanity by 2030, insisting in particular on a reform of the international financial architecture.
A request reiterated by Antonio Guterres, who sees it as a reason for the fragmentation of the world.
Today we see how new fissures are opening in the world. Imperialism shows its disgusting facecommented German Chancellor Olaf Scholz.
Apart from the United States, no other permanent member of the Security Council (France, United Kingdom, China, Russia) is represented at the highest level at this meeting. Absences that some diplomats see as a bad sign for the UN.
Iranian President Ebrahim Raïssi will be on the podium on Tuesday, as his country and the United States have just carried out a rare prisoner exchange, within the framework of an agreement that includes the transfer to Tehran of six billion dollars of frozen funds .