The death sentence this summer of Mohamed al-Ghamdi for messages critical of the Saudi government on .
This event occurs when Canada reestablished diplomatic relations with the Saudi kingdom last May, broken for five years due to criticism from Ottawa for human rights violations in that country.
HE crimes Mohamed al-Ghamdi's activities are reduced to his activities on YouTube and on X (former Twitter), where this 54-year-old retired professor had two followed accounts with two and eight subscribers, respectively.
Their activity consisted mainly of retweets of voices critical of King Salman and his son, Crown Prince Mohammed bin Salman, the country's foreign policy and even price increases.
Abdullah Alhaoud, director of the Freedom Initiative, a Washington-based organization dedicated to the defense of prisoners of conscience in North Africa and the Middle East, highlights the unprecedented severity of this sentence.
This is the first time the Saudi government has sentenced a person to death for tweets. It's crazy.
According to him, the fact that Mohamed al-Ghamdi's brother is one of the most well-known critics of the Saudi government partly explains this disproportionate sentence. The Saudi government cannot locate him, so they pursue his family.
However, beyond this familiar context, Mr. al-Ghamdi's case demonstrates a serious trend that alarms human rights organizations.
Other Saudi citizens who dared to express their disagreement with the government on social media have also received extremely harsh sentences in recent years.
27 and 45 years in prison for women
Abdullah Alhaoud's own father, Salman al-Odah, a very popular Islamic preacher in the kingdom, has been in prison since 2017 for publishing a message about Saudi Arabia and Qatar. As a reminder, Doha was subject to an embargo by four countries in the region, including Saudi Arabia, from 2017 to early 2021.
Kept in solitary confinement, Salman al Odah only escaped the death penalty thanks to the media pressure exerted around his case, according to his son.
Last summer, two women also received dizzying prison sentences for their social media activities.
Open in full screen mode
Salma al-Shehab during an interview with Saudi television at the Riyadh International Book Fair in 2014. A PhD student at the University of Leeds, this mother was sentenced to 27 years in prison for tweets supporting Saudi feminists. (File photo)
Photo: AP
Salma al-Shehab, a PhD student at the University of Leeds and mother of two, was arrested in January 2021 during a visit to Saudi Arabia. Authorities sentenced her to 34 years in prison for showing her support for women's rights on
Her sentence was reduced to 27 years in prison in January 2023. The young woman, who has not seen her children since her arrest, began a hunger strike last spring for almost a month to alert public opinion about her case. indicates the NGO Alqast, which documents the sentences of prisoners of conscience in Saudi Arabia.
Noura al-Qahtani, a 49-year-old mother of five, was sentenced to 45 years in prison around the same time for criticizing the government on X (formerly Twitter).
These harsh sentences send a message to other women who dare to challenge the status quo. The government wants to make an example of them.
The two women, along with several others imprisoned for their tweets, were tried by the Special Criminal Court, a judicial institution created in 2008 to try terrorism crimes and which Amnesty International describes as one of the instruments of repression.
Twitter accused of helping Saudi authorities
Ms. al-Qahtani's case is attracting more attention because she posted her messages critical of the Saudi government from an anonymous account.
How did the government know? Did you get your identity directly from Twitter? asks Abdullah Alhaoud. We no longer trust this company.
In 2019, two former employees of the company, Ali Alzabarah and Ahmad Abouammo, were convicted by US courts for having communicated to Riyadh information about X (former Twitter) users who criticized the Saudi government. The events took place between November 2014 and May 2015.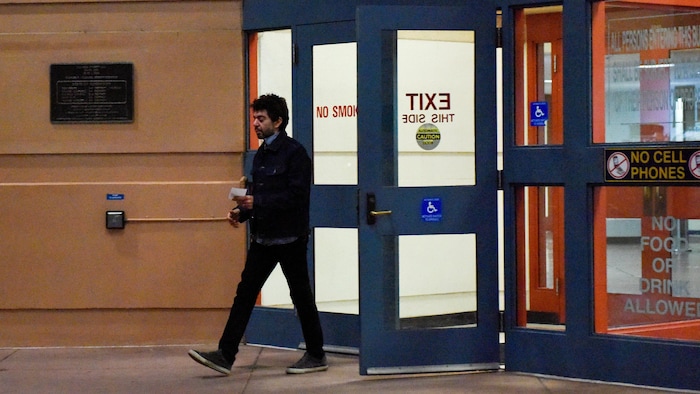 Open in full screen mode
Ahmad Abouammo, who worked for Twitter while spying for the Saudi government, leaves Santa Rita prison while awaiting trial in California, November 2019. (File photo)
Photo: Reuters / Kate Munsch
He guardian It was recently revealed that Areej al-Sadhan, the sister of a Saudi humanitarian worker also in prison, had in turn filed a complaint against Twitter last May before the US justice system.
It accuses the company, then under the leadership of Jack Dorsey, of knowing about the Saudi government's efforts to identify critical voices on the platform and of turning a blind eye. He believes that his brother was arrested because of the infiltration of Ali Alzabarah and Ahmad Abouamm in the company.
US Senator Chris Murphy, for his part, is concerned about Saudi investments in the US company. A member of the Saudi royal family, Prince al-Walid ben Talal, has been a major shareholder in X (formerly Twitter) since 2015.
When Elon Musk bought the company last fall, the prince increased his stake in the company. Al-Walid, through his company Kingdom Holding, is today the second shareholder of this American company after Musk.
Last fall, Chris Murphy called for an investigation into the risks these investments posed to American national security.
We should be concerned that the Saudis, who have an undeniable interest in suppressing political expression and influencing American politics, are now the second-largest owner of a major social media platform.
It should be noted, however, that relations between Al-Walid and Prince Mohamed bin Salman, his cousin, are complex. Al-Walid is one of the princes detained by Bin Salman during the vast anti-corruption operation carried out in 2017, which aimed, in particular, to consolidate his power.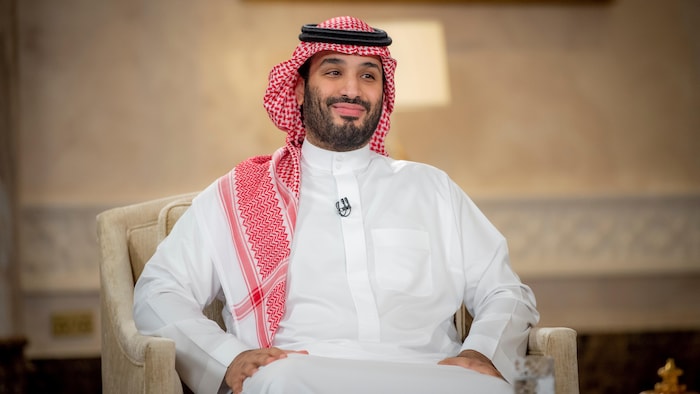 Open in full screen mode
Crown Prince Mohammed bin Salman during a television interview.
Photo: Reuters
Mohamed ben Salmane, between reform and repression
Human rights organizations associate this climate of intense repression with the figure of Mohamed bin Salman, who became crown prince in 2017.
However, this thirty-year-old man emerges as a reformer determined to guide his country towards modernity. He broke the very strict religious shackles that governed social norms and opened the country to tourism.
Another notable advance is that women can now drive and work.
This summer, Saudi women went to the cinema to see the film. Barbiea scene completely unimaginable a few years ago.
Instagram widget home. Skip widget?
End of the Instagram widget. Return to the start of the widget?
However, for Hala Aldosari, these changes occur mainly because women are seen as economic assets at a time when the Saudi state seeks to diversify an economy highly dependent on oil.
Women generate income by working, paying taxes, consuming or participating in recreational activities. But if they want to express their opinion in public space, change social or gender norms, they will be severely punished.
Hala Aldosari also puts the scope of these reforms in perspective by emphasizing that in families, particularly the most conservative ones, restrictions on women's autonomy have not evolved.
Women still cannot marry without a guardian's approval, can face repercussions if they disobey or are absent from home, and do not receive meaningful state protection in cases of abuse.she explains.
Sevag Kechichian is a researcher at DAWN (Democracy in the Arab World Now), an organization founded by Saudi opposition figure Jamal Khashoggi. The brutal murder of the journalist in the Istanbul consulate in 2018 is for him the symptom of a repression that has acquired unprecedented proportions since Mohamed bin Salman came to power.
Previously, criticism of the government on social media could result in the perpetrator receiving warnings, interrogations, intimidation or Two to five years in prison if that were not enough.He describes.
Today it has become extreme. The message is clear: there is no room to discuss the public affairs of this country.
According to him, the prisoners whose cases are publicized are just the tip of the iceberg. Sometimes families prefer to remain silent about the imprisonment of their loved ones, hoping that the state will be more lenient, he notes.
Resumption of diplomatic relations with Canada
When asked to react to the intense repression currently underway in the Saudi kingdom, Global Affairs says Canada has frequently raised its human rights concerns with the Saudi government, both publicly and privately.
Canada will always defend human rights, including women's rights and freedom of expression. They are universal values ​​that must be defended.
Respect for human rights is an obstacle in relations between Canada and Saudi Arabia.
In 2018, Ottawa publicly criticized the arrest of women's rights activist Samar Badawi, sister of Raif Badawi, who was in prison at the time. (He was released, but is still banned from leaving the country, as is activist Loujain al-Hathloul.)
In retaliation, Saudi Arabia announced the expulsion of Canada's ambassador, withdrew its own, forced the departure of thousands of students, and froze any new trade or investment with Canada.
Last May, relations were resumed and Canada appointed a new ambassador in Riyadh, Jean-Philippe Linteau.
The Saudi Embassy in Ottawa did not respond to our request for comment on the convictions of Mohamed al-Ghamdi, Salma al-Shehab and Noura al-Qahtani.