Writing/Quadratin Yucatan
MERIDA, Yuc., Dec. 17, 2022. – The XXXII edition of the "Carlos Torre Repetto in Memoriam" International Tournament began this Saturday at the Los Angeles Hotel with the presence of Grand Masters and International Masters from 15 countries around the world.
With the announcement of the induction of Ramon Huerta Sorris of Cuba, one of the main promoters of sports science in Yucatán, into MI's US Chess Hall of Fame, Carlos Sáenz Castillo, director of the Sports Institute, was in charge of the place. Daniel Zacarías Martínez, president of the Yucatan Chess Board, announced the medal to commemorate his entry into the Sports Science Memorial in Chihuahua, minutes before announcing the news, together with Carlos Rivera Cabrera, president of the Cuban federation of the sport. Celebrated. New Immortal.
The inauguration of the Carlos Torre tournament was held in the presence of Cuban GM Carlos Albornoz Cabrera, two-time champion of the competition, who made the first move after announcing the start of the competition, accompanied by the head of the sports institute, representing Governor Mauricio I went. With the presence of Jesús Aguilar y Aguilar, Technical Secretary of Sport of the Villa Dosal and Merida City Council.
Cuba, Peru, Colombia, the United States, Ecuador, Hungary, Bulgaria, Argentina, the Dominican Republic, Guatemala, El Salvador, Panama, Chile, Japan and Mexico are represented at the competition, which will be held in 2020 and 2021. Was not done, but is now returning with the support of the State Government and the Municipal Council of Merida bringing together 550 players and with 500 thousand pesos in prizes.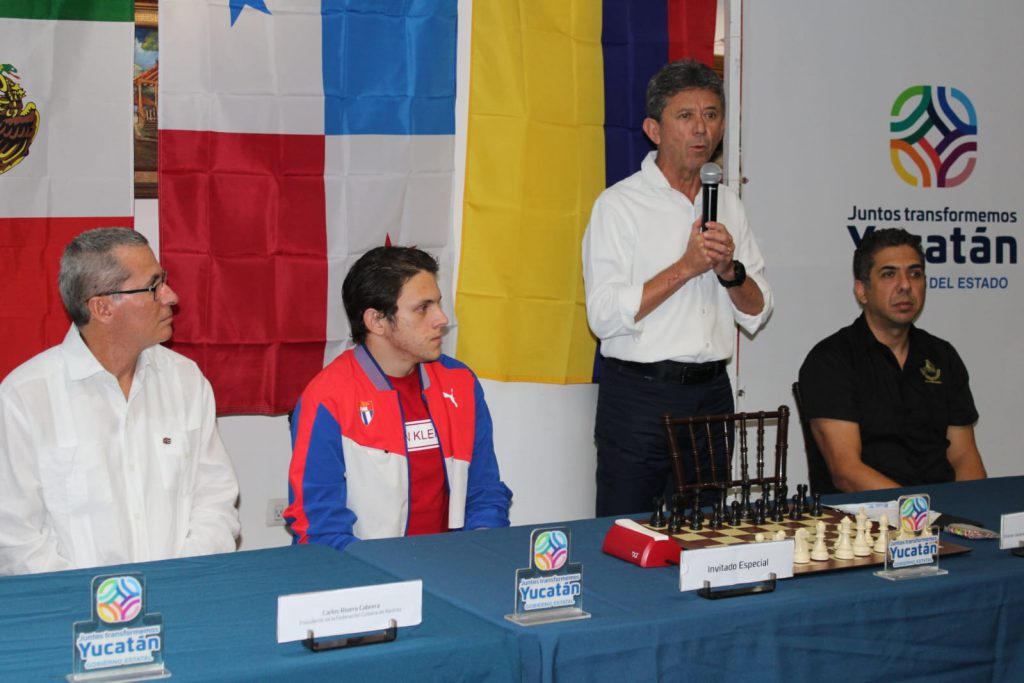 Currently, Grand Masters Lázaro Brujón Batista is the 5-time champion of the tournament, Emilio Córdoba Daza has 4 championships and Carlos Albornoz is a two-time champion now competing for first place in the master category.